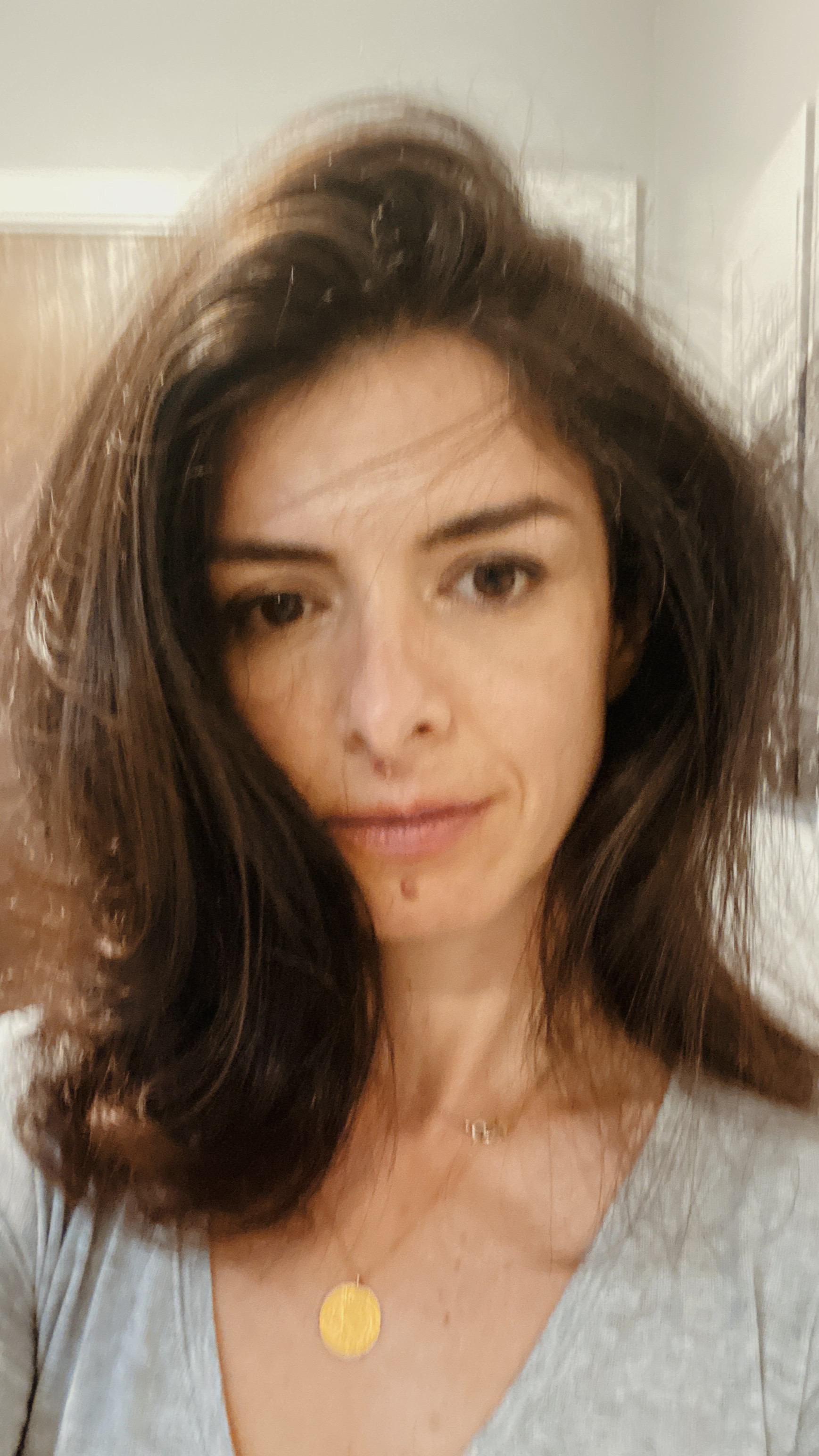 Sev Saffen
Creative Problem Solver
TRIBE App
It takes a village so don't do it alone. Join events with
other single parent-led families and build your tribe.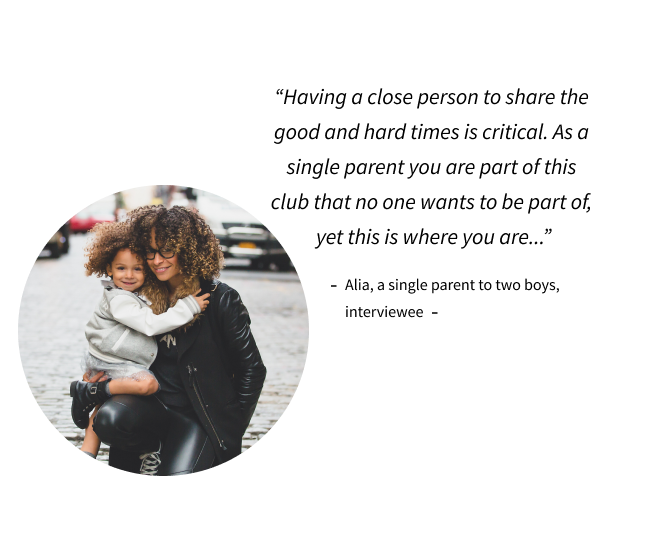 The Problem

The uncharted territory of parenting is filled with unknowns and nerve racking experiences in general.

When this journey continues as a single parent with a child/children it can become overwhelming, scary and lonely. It is a difficult problem with many interlayered emotional complexities that induces a highly anxious experience for both the parents and their children.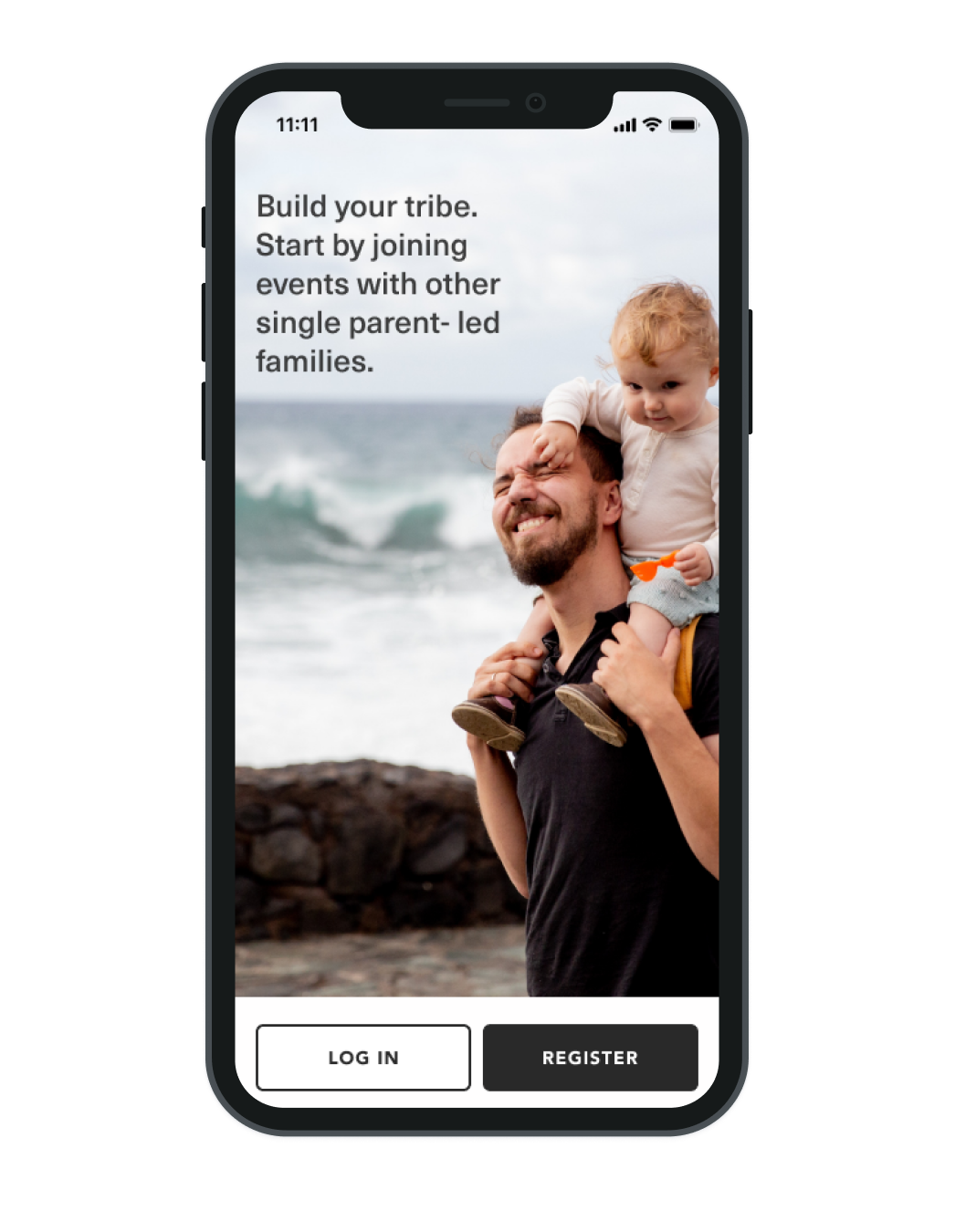 Solution

Tribe app platform is designed to be a service for secure unconventional single-led parent families to connect with each other and build their TRIBE around their ever evolving families.
My Role

I was a solo designer on this project that I was interested in creating initially for the Bay Area launch. I have worn many hats, and led the end-to-end processes while working with end-users and industry experts in Product Design and within the User Research arena. While coordinating and leading all facets of design I also was responsible for:

Information architecture,

User task flows and interaction,

Visual continuity,

Product development and prototyping.

Usability testing

Additionally, I conducted user research using methods such as surveys, interviews, guerrilla usability testing and finally two rounds of usability testing with hi-fi prototypes.


01 Secondary Research
The secondary research studies I have relied upon were done
by APA (American Psychology Association), academic papers,
industry studies, government studies and news articles about divorce, parenting and family structure. My focus was on three main categories; the users, their goals and the environment that they
were set in in order to get a holistic view on their lives and aspirations.
02 Competitive Analysis
I have conducted competitive research to evaluate what products
that currently exist in the market place to meet the needs of single parents. And, are they satisfactory in terms of solving the problems they were meant to address?
03 Primary Research
User Interviews
I interviewed five single parents from a diverse backgrounds. Some of these parents are co-parent half the time, some are single parents by choice parents by choice without a partner from the start. Here are my main findings.

Loneliness
I found that many parents experience loneliness. There is a need to feel supported as single parents. Since there is no partner to give support, feedback, acknowledgement it's an overwhelming experience when dealing with difficult situations.
"Not sure if I am doing the right thing as a single parent.
At times I feel down on myself and would have loved some outside acknowledgement and assurance to feel better."
Shame
There is still the lingering feeling of shame around single parenting. Especially for the user's that started their journey as a couple. It's a negatively triggering experience to transition from the nuclear family structure to a single parent led household.
There is lack of services, platforms to have these conversations to meet with other single parent led families and connect with others in similar situations. To normalize one parent led household both to the children and the society will benefit us all in large.
"As a single parent, you are part of a club that no one wants to join. And the thing is once you pass through the rough waters of separation anxiety and a lot of tears you arrive at a new place transformed."
Uncertainty
Many single parents expressed uncertainty about how to make single parenting more acceptable and normal for their family and in their communities. This feeling of uncertainty causes high anxiety in single parents. How to meet kids needs/wants and at the same time balance their own needs/wants. Although there are some "parenting groups" within social media platforms, people often end up not participating because they are not specific to single parent led families.
"As a single parent, you think and feel so many feelings and emotions alone. There were days in the lockdown I have not seen or spoken to anyone besides my 6 year old over long periods of time. It would be awesome to ask questions and share experiences with people who could relate to my situation."

01 Synthesis & Analyze

I then started analyzing the data gathered from the research phase. I was then able to see patterns and gain valuable insight that helped me really define the users and the problem they are facing. I started by creating an affinity map and empathy maps.
Affinity Map
Affinity Mapping was helpful to discover the common themes after the conducted interviews such as; pain points, the needs and wants the single parent led families have and not yet met in the marketplace and the parent's aspirations both for their personal growth as well as their families.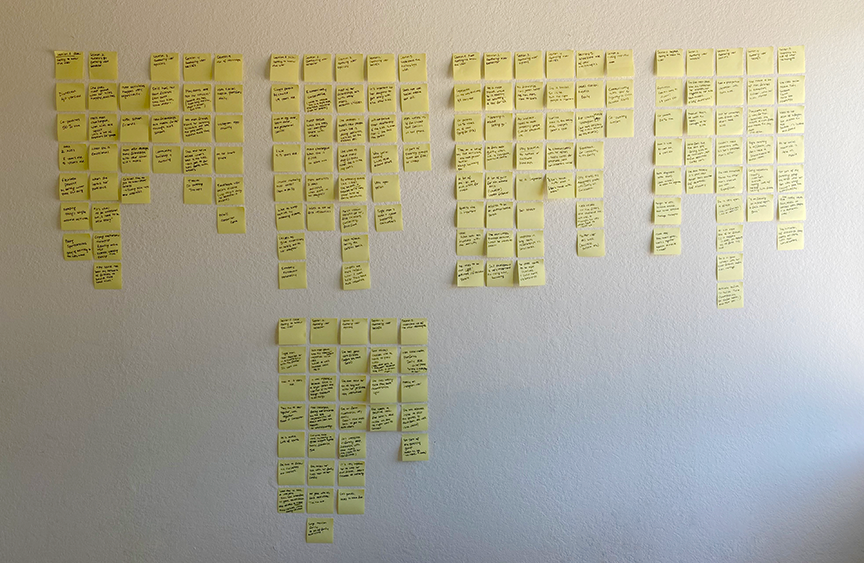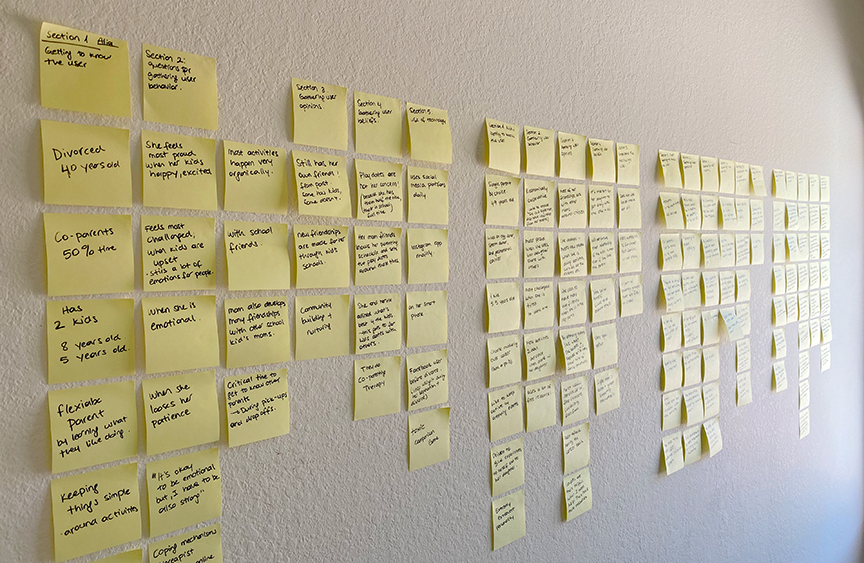 Empathy Map
The user interviews were illuminating and surprising. Another method I used to organize insights and observations to understand the user's pain points, goals, feelings, thoughts and behaviors was through empathy maps.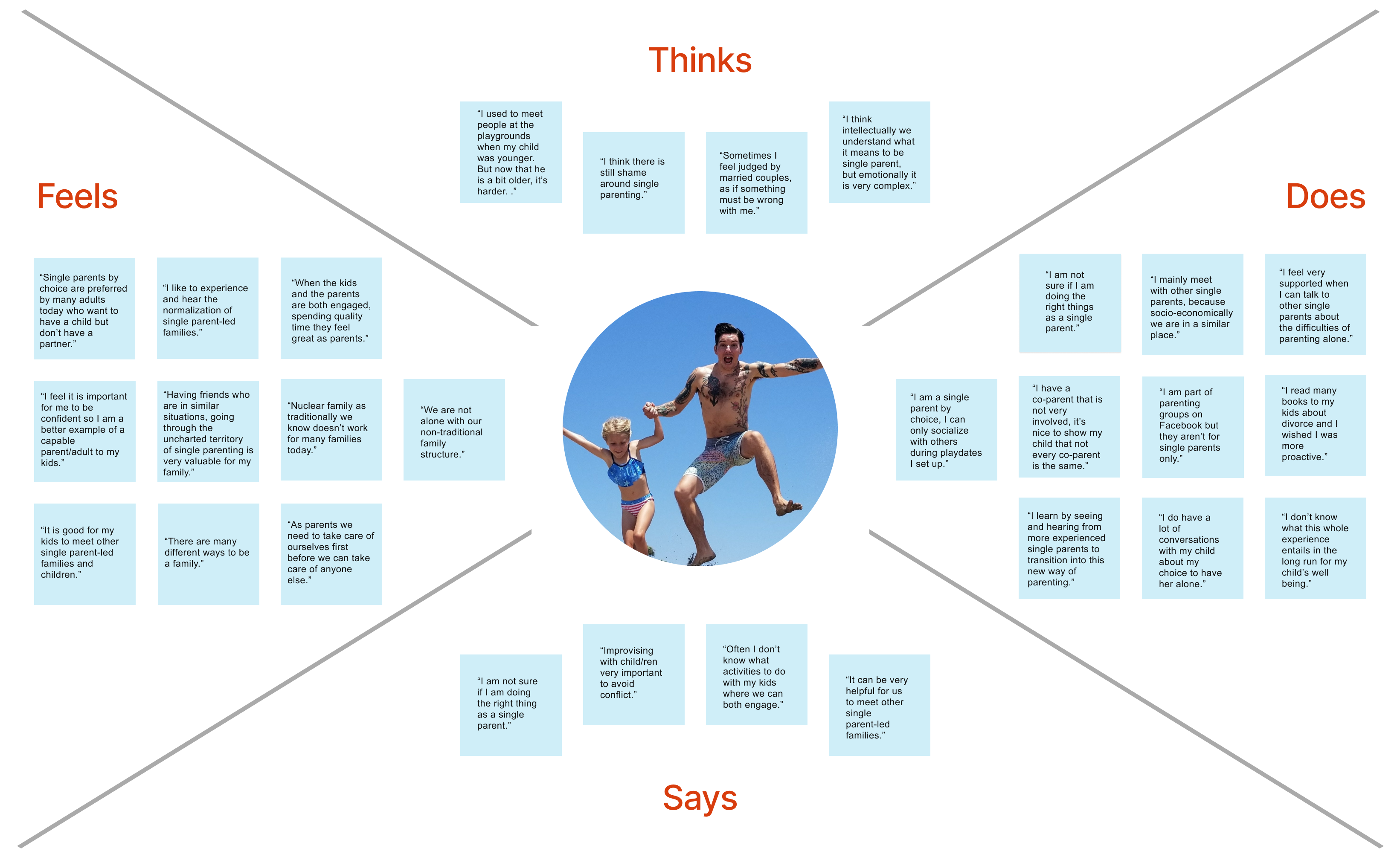 Personas
Based on my findings, I created two personas that fit my target demographic and encompassed the main desires and pain points of my target users. Keeping these two personas in mind throughout the design process also helped me practice user centered design.
The Target Users:
TRIBE App users are single parent-led families who are between the ages of 25-50 years old, with children under 12 years old. These users are technologically literate and have a strong preference for mobile-first, easy access and real time communication. They use apps multiple times in a day, are comfortable connecting and being in touch with people through texting.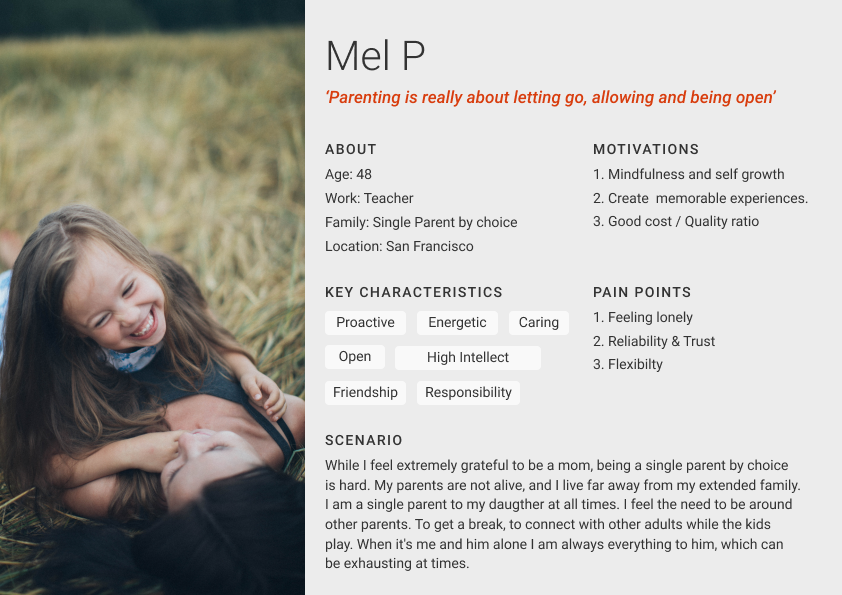 Deep Connector
Mel is a single mom by choice, she has used a sperm bank, an egg donor to have her child. She is currently a teacher. She likes her job because of the flexibility it offers with her parenting. Her daughter Emma is 7 years old.
She doesn't have as much free alone time, because there is no one else to help take care of her daugther. It's important for her to get along with other parent friends so she can parent and socialize all at the same time.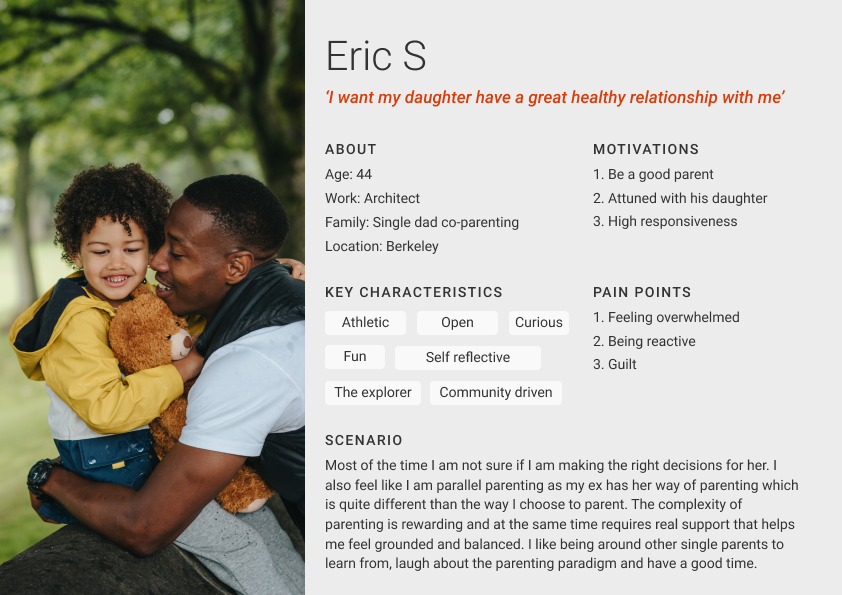 Situational Connector
Josh is an architect and manages his studio in Oakland. He has a pretty busy life that involves around work, his hobbies, and co-parenting his 5 years old daughter with his ex-partner. While he enjoys co-parenting there are quite a lot of challenges in terms of different parenting styles each parent have and the different values each parent holds.
He can make connections with others pretty easily, and looks forward to making more meaningful and deeper relationship with other single parents.

01 Ideation
Upon completing and digesting the information about the users, their pain points and the needs/wants, at this point in the design process I have started brainstorming on potential solutions to solve those issues.A of the ideation process, I came to the conclusion of creating a platform for single parents to find and connect with other single parents and build their Tribe.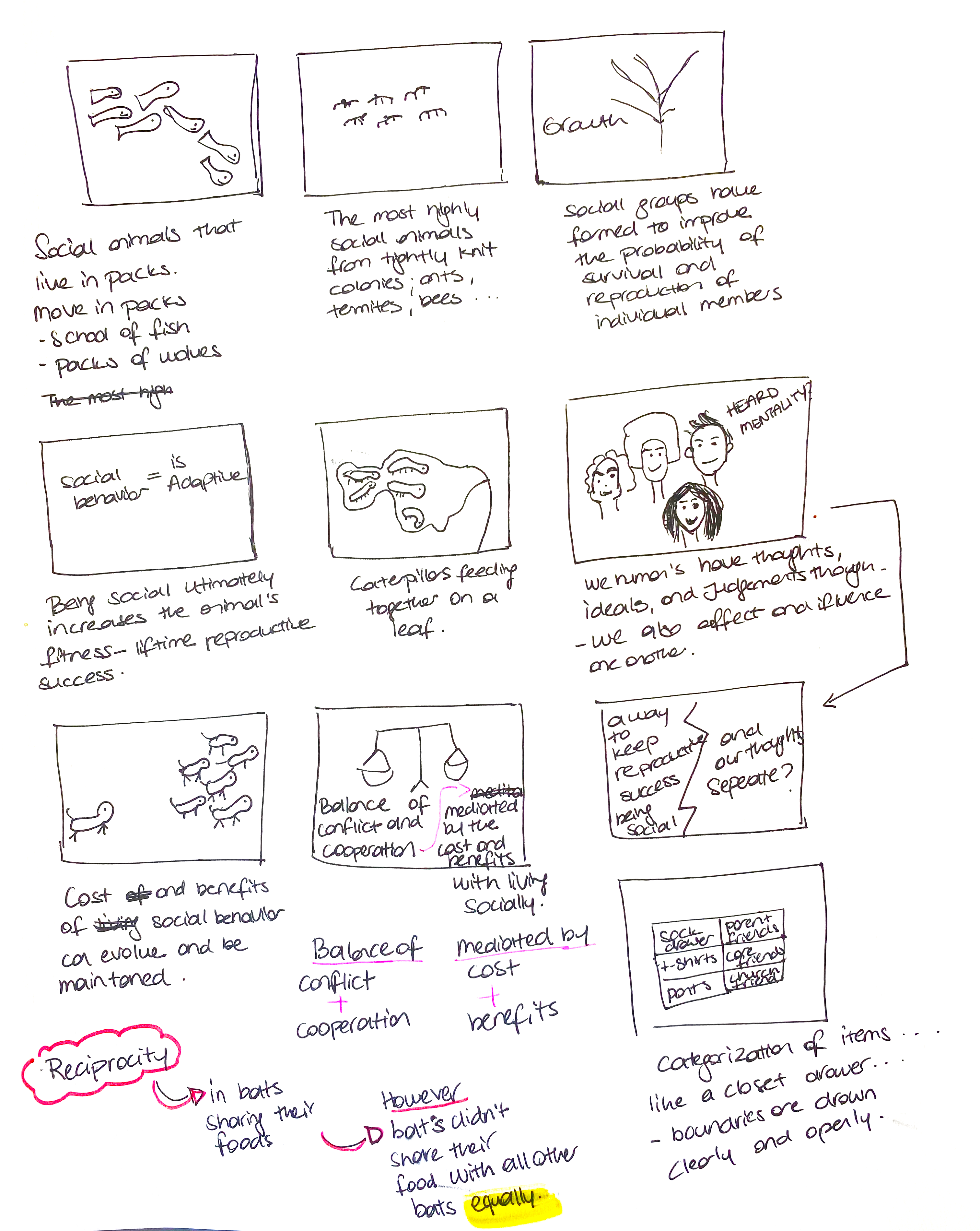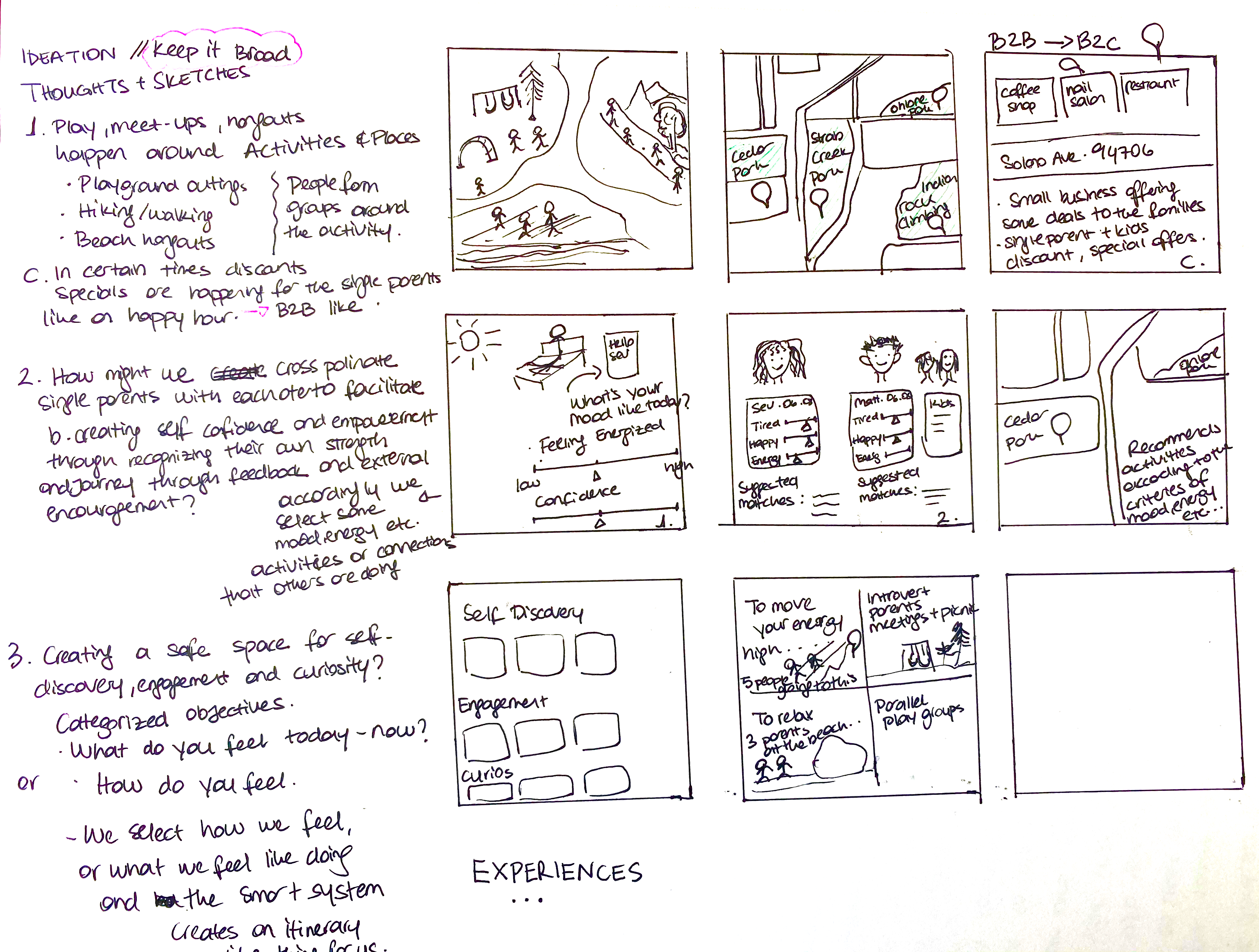 User Stories
I generated user stories to identify the functional needs of the product which was also the pointer to help me focus on the MVP that met the user's core need.
A way for single parents to find and connect with others

Personal profile

Messaging feature

Geolocation so that people can find others nearby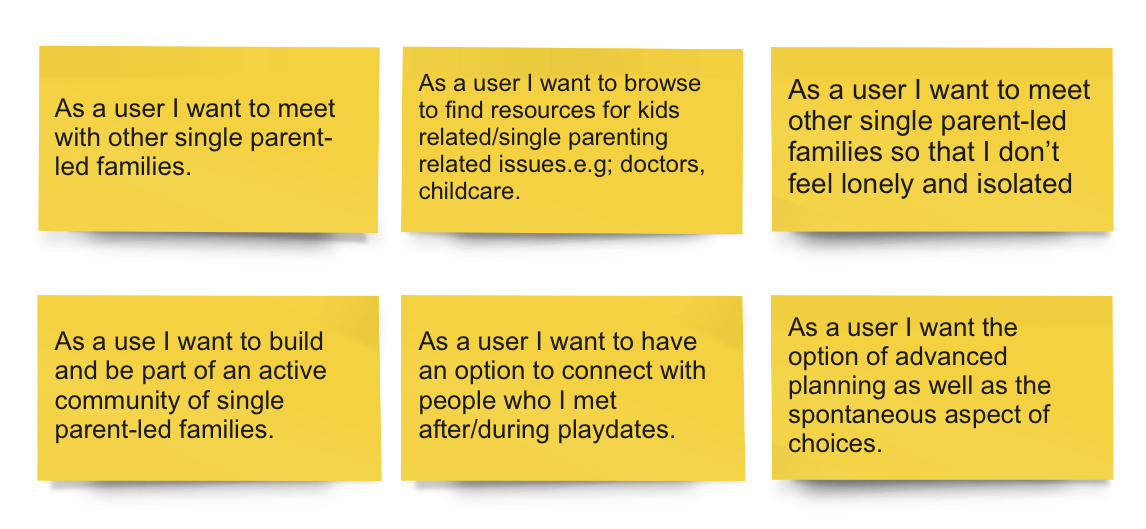 02 Information Architecture
I identified the key specs that had to be included in the app in order to build the MVP, then created a sitemap and followed that with user flows based on those specs (a lot of sticky post it notes was involved).
Sitemap
A sitemap was created to get a better overview of the screens that would be included, as well as to visualize the navigation structure and hierarchy of the screens.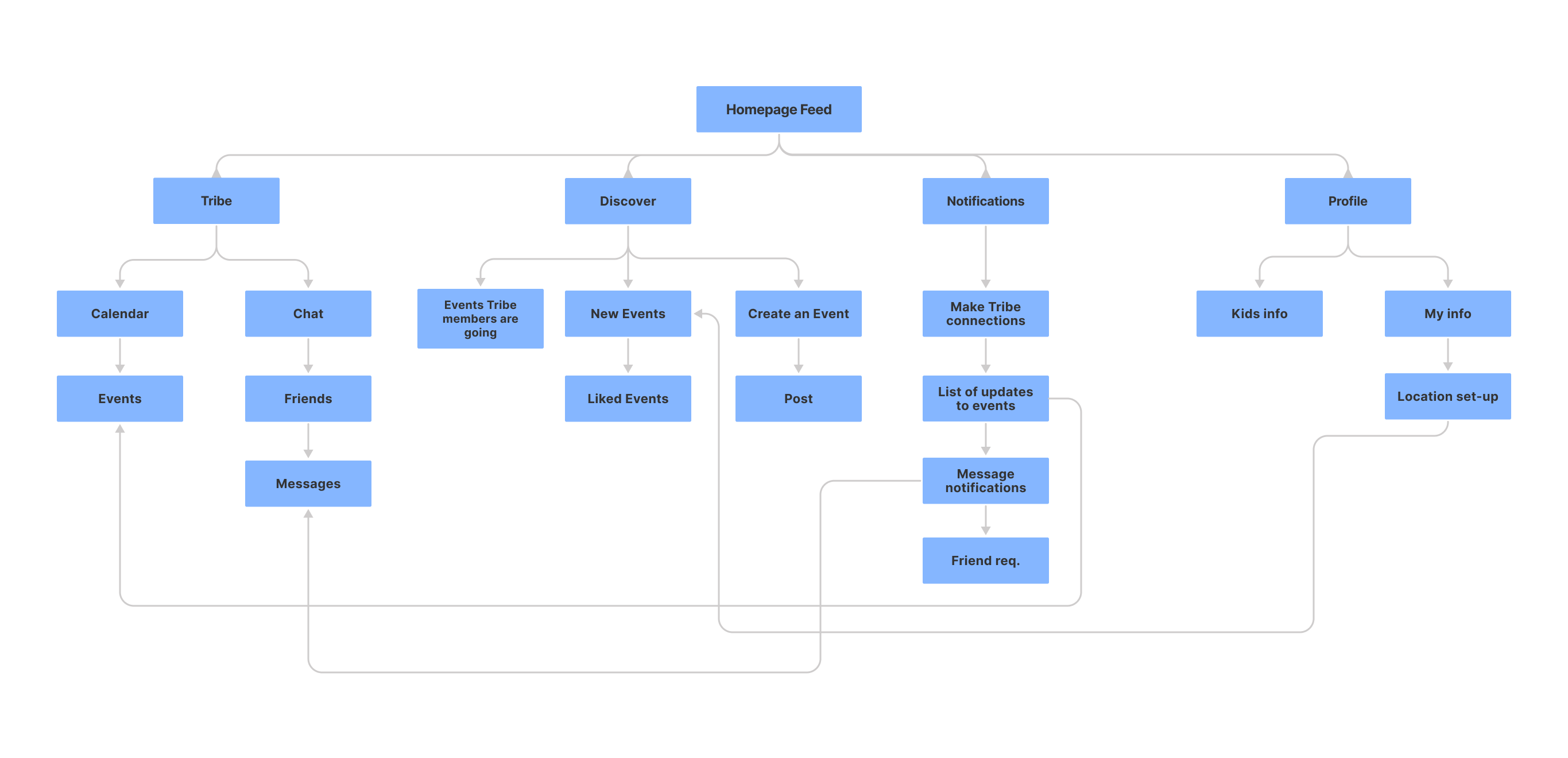 User Flows
I created User Flows to get a visual representation of what routes the users might take through the app to achieve a goal. The red routes represent the routes that are critical to the design process for the MVP.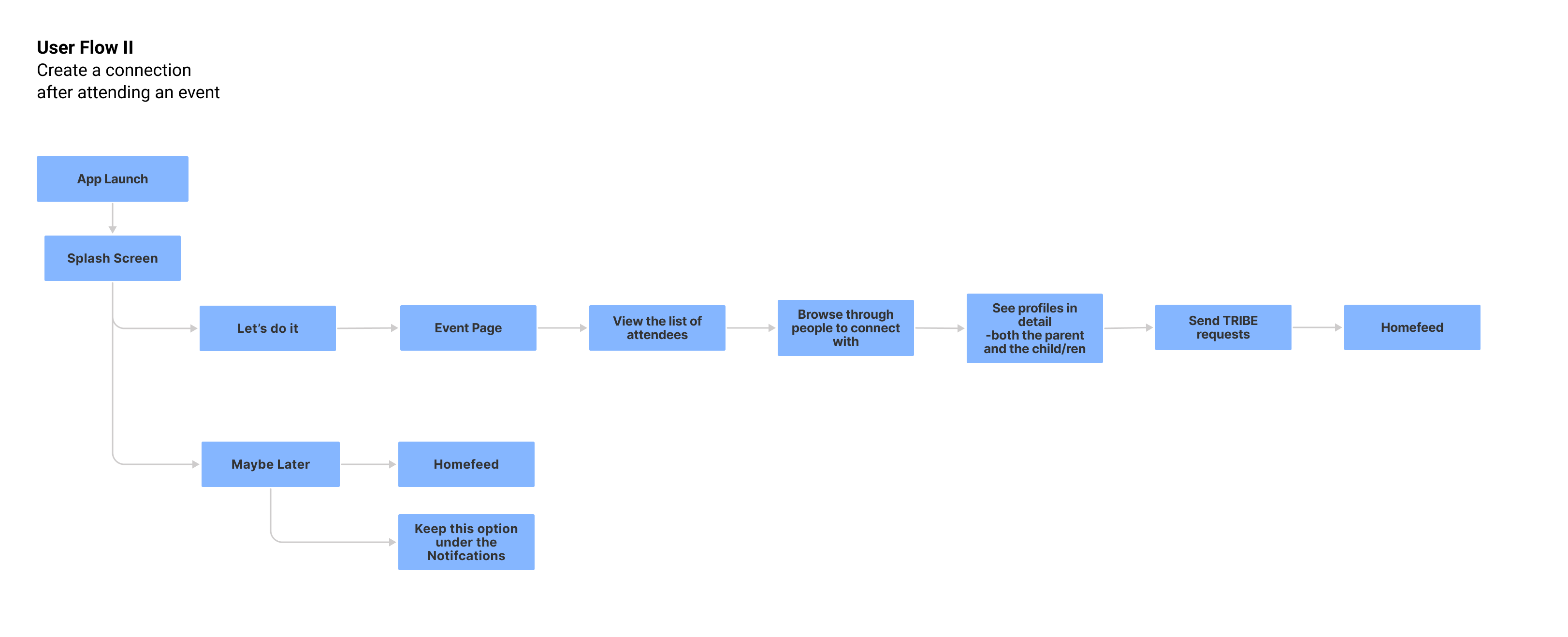 03 Sketching
I started out my design process by sketching out preliminary designs of key screens that were following the MVP, that were created through the information architecture, including:
Discovering Events,

Attending an event,

Starting building Tribe connections after attending an event,

Messaging with your tribe connections.

04 Guerilla Testing
From the initial low-fidelity sketches I conducted a Guerilla usability test with five
users using Marvel App. To get their initial response to the designs.

Main Issues
Making connections after attending an event was not well understood

Clarify where/how to make Tribe connections more easier for the users

Unclear instructions

Iterations
Created a section Events Joined vs Discover in the feed to separate
the past from future events

Focus on both parents and child in the profiles

Simplify and rewrite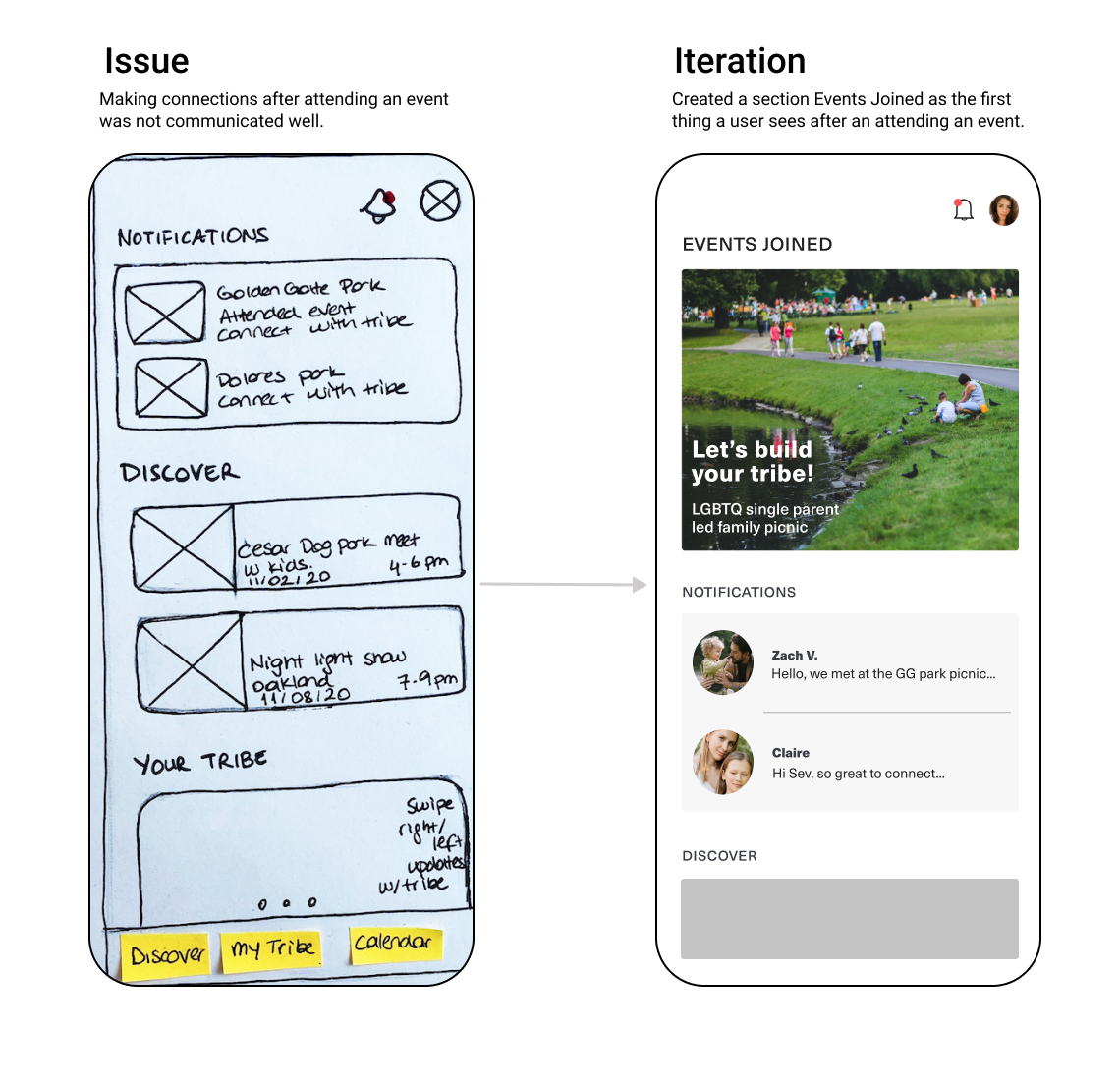 05 Wireframes
After creating my rough screen concepts, I started working out and defining the different functionalities and features for the TRIBE App to include.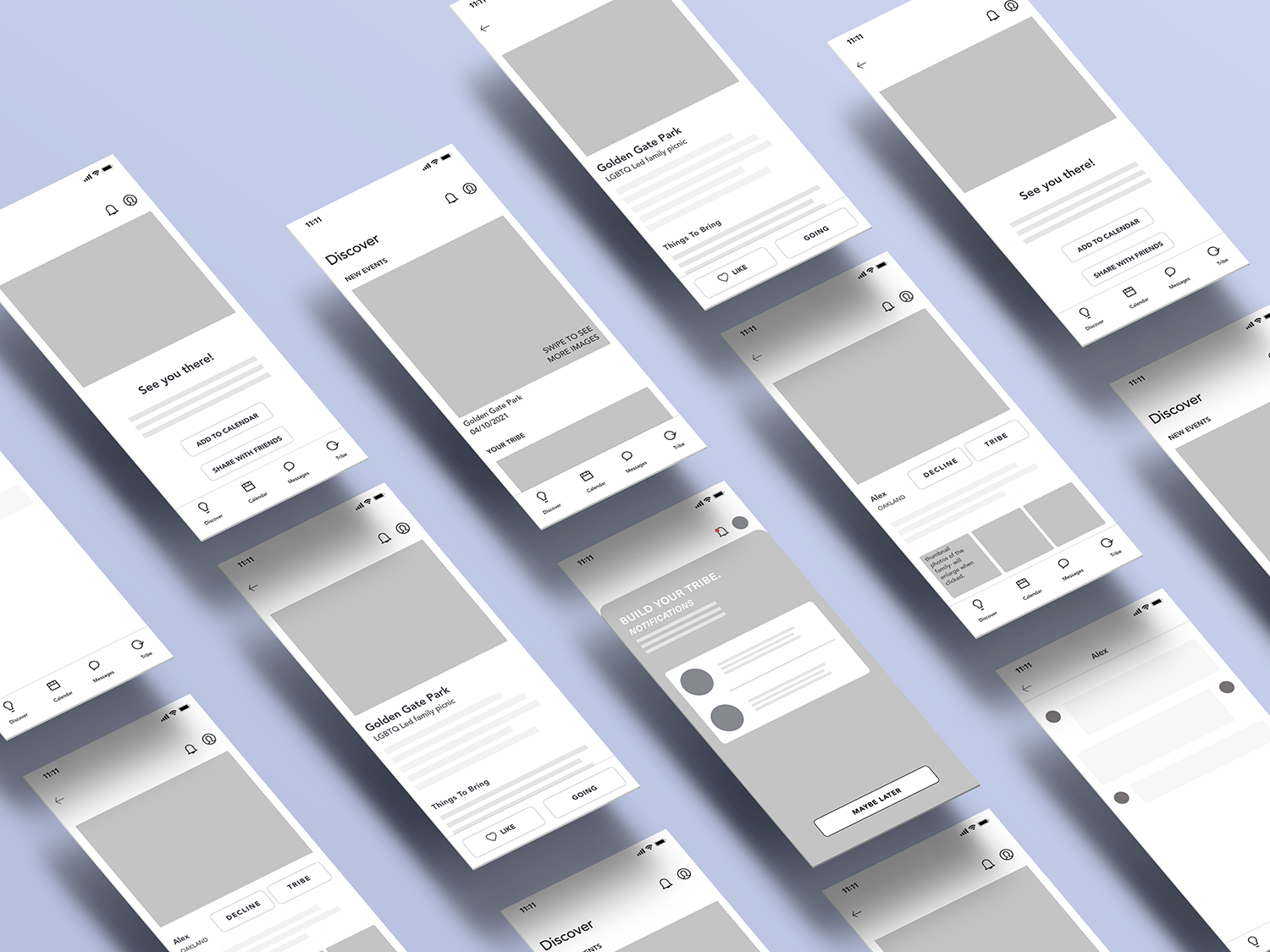 06 Wireflows
Wireflows represent the workflow of user interactions that follow the red routes
in my MVP.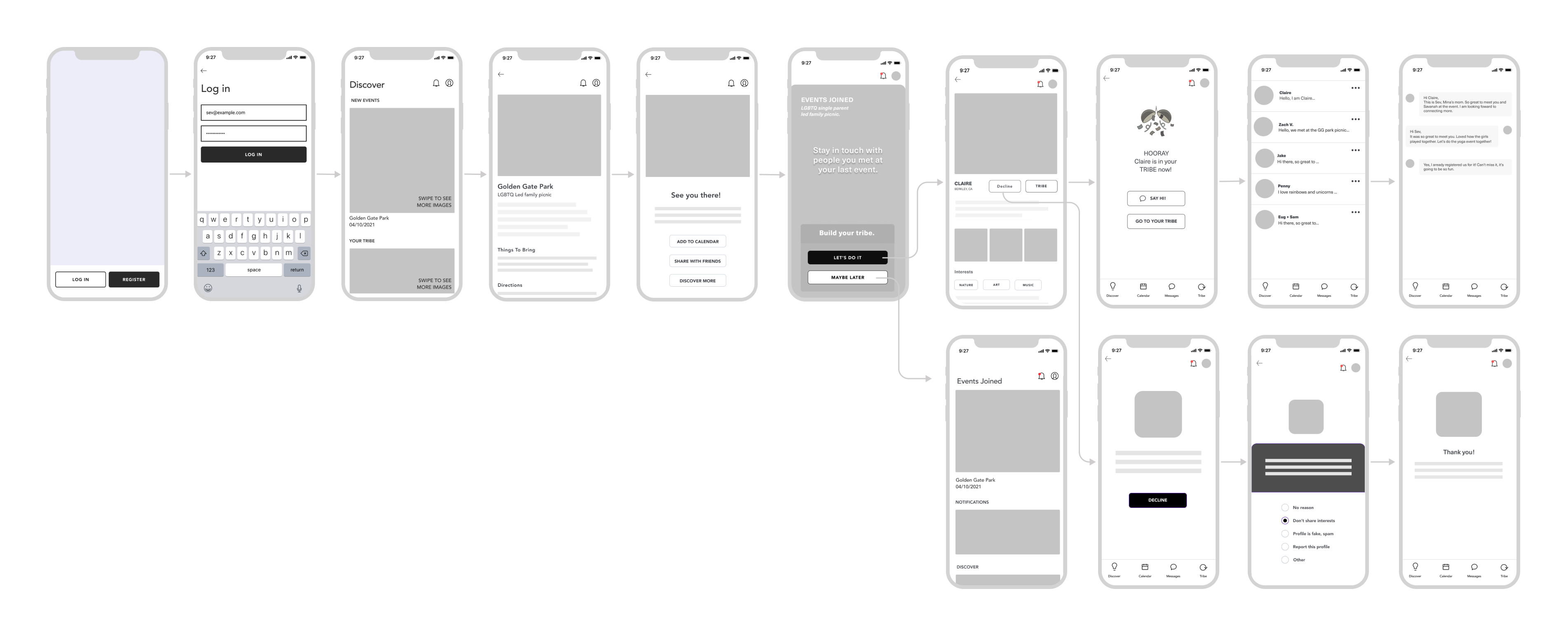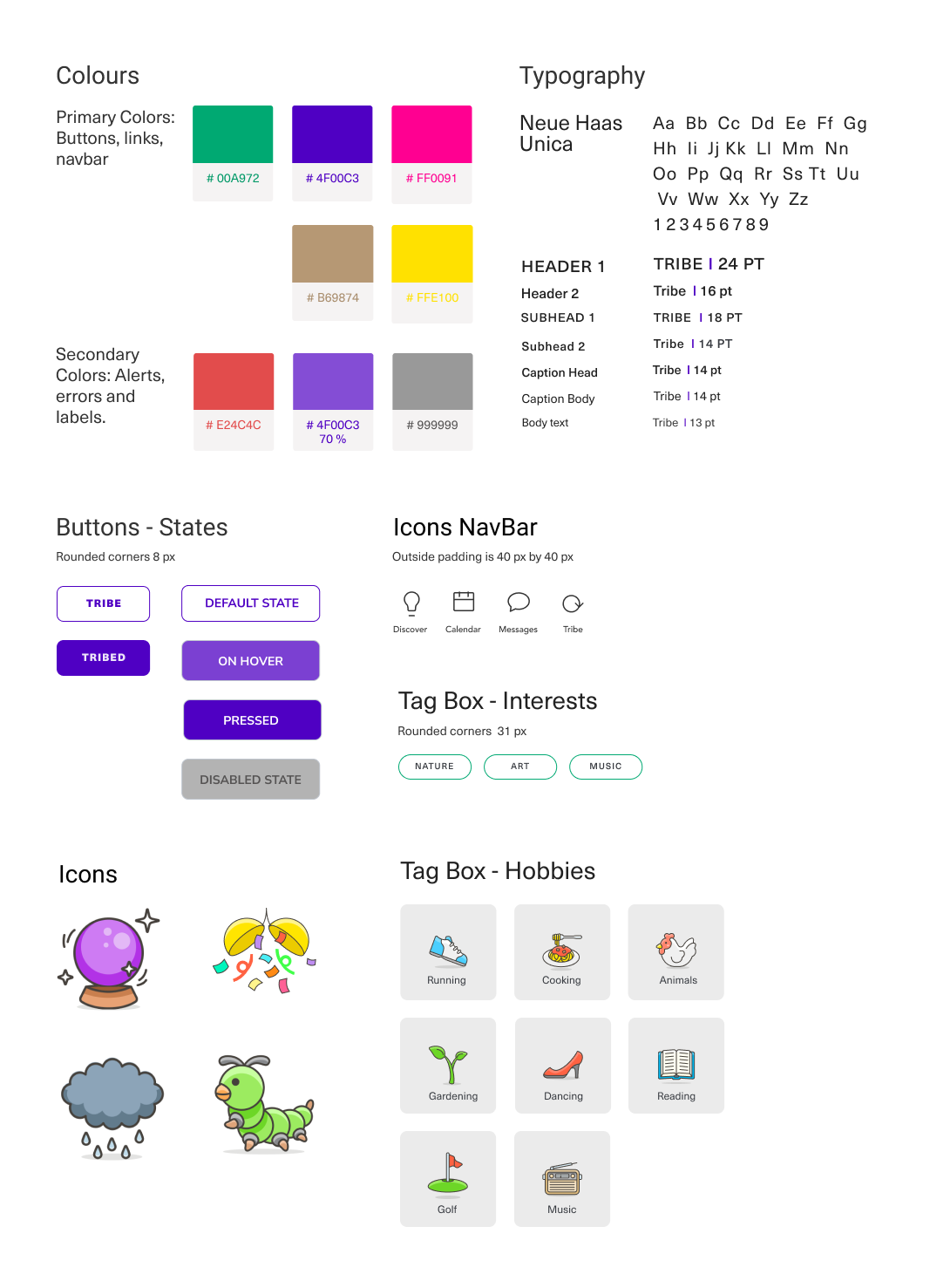 07 Visual Design

Brand Personality
The single parents lead busy lives and multitasks most of the time. The mental model of the user's from the user research showed that they wanted a direct and open communication with other single parent lead families.

Brand Attributes
Friendly, Supportive, Joyful, Cheeky and Safe.

Imagery
The objective of the User Interface was to keep the app friendly, fun and clean. The imagery in the mood board was chosen to convey those goals as well as to reflect the platform's approach to connecting single parent led families with each other in a playful manner.

Colors
Fun, primary colors, cheerful and modern colors.

User Interface - UI
One of the insights from the user research showed that getting the tasks done as efficiently as possible with a minimal distraction is very valuable for many users. This was translated into a design language with colors that are primary, and minimal. The shapes of buttons are rounded slightly, vibrant gradients, big beautiful photos, and quirky, playful icons were chosen to support that.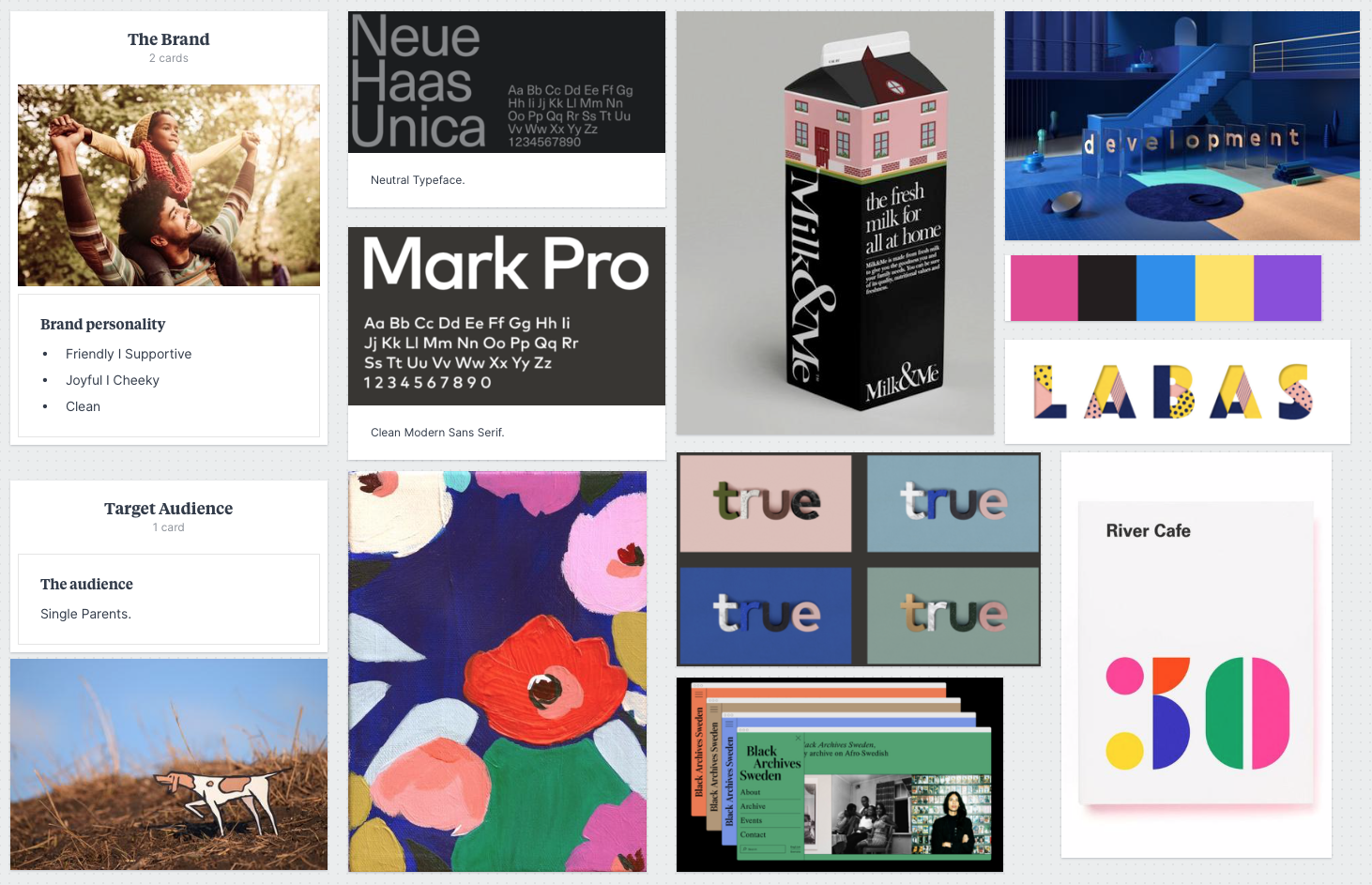 08 High Fidelity MockUps
High Fidelity Mockups were created. Below you can see the first version, which was created before two rounds of usability testing.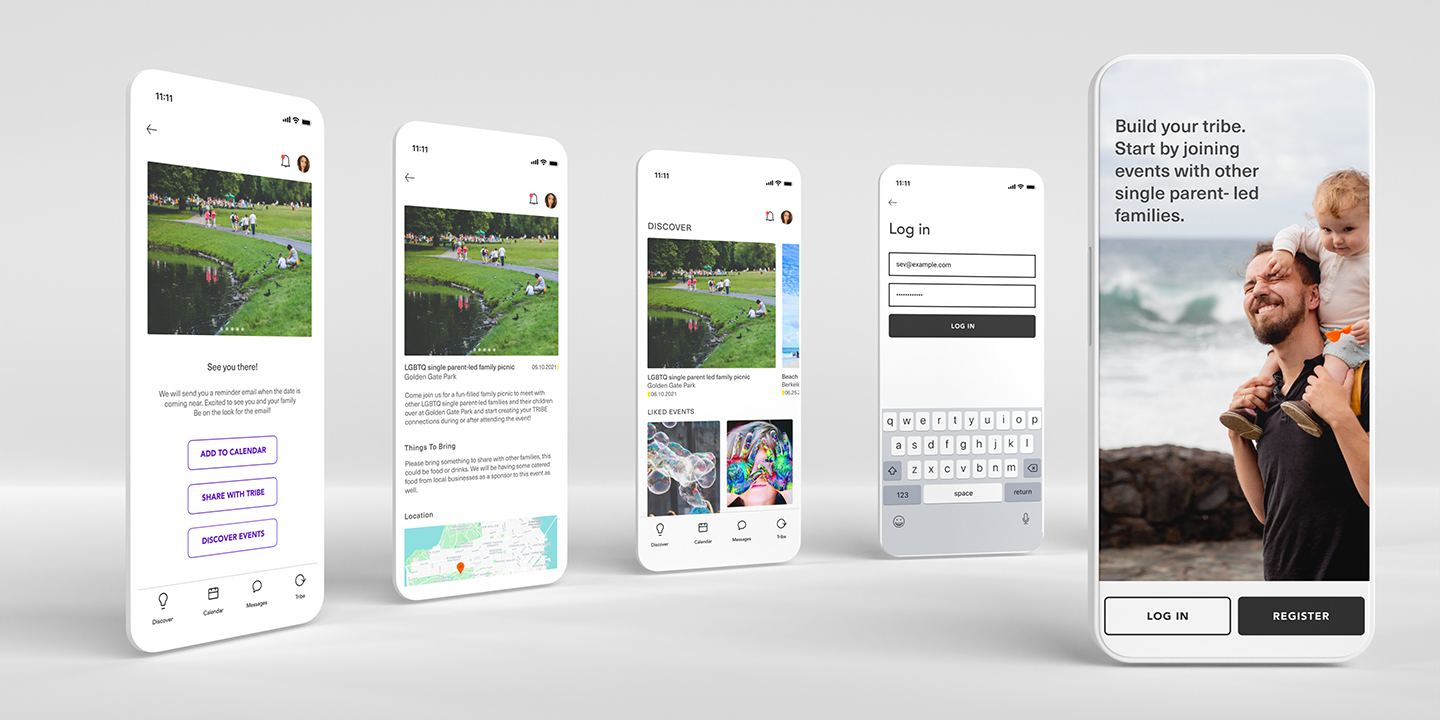 Couple rounds of prototypes were made in Invision to be able to test from low-fidelity to hi-fidelity screens in order to get a better feel for how the app will function and look.
This is the final version of the prototype.

01 Usability Testing
I have conducted the two rounds of usability testing with five participants. Each session lasted about 45 min. Users were given prompts to accomplish four tasks/activities on the app. My goal was to discover if the flow of these tasks were intuitive and user centered. I got insights on what worked and what needed to be redesigned.
Upon completing each usability testing, I have started to see some usability patterns on some key screens and ranked them accordingly, how critical and what priority they have on the User Experience and MVP.
This led to further iterations and improvements.
Main Issues
The initial path to make TRIBE connections after joining an event was not clear for the users.

The "Let's build your tribe" in the Home feed didn't provide enough information for the user to take an action on start building their TRIBE

It was unclear how/what the difference was "Receiving a Tribe request notification" vs a regular "Notification" such as messages, updates etc.

Some participants expressed that the instructions can be more clear

Negative Experience aka Declining a Tribe connection request was hard for user's, the language was not supportive for the users and it made them feel bad to decline
Iterations
A pop-up information screen about "How the Tribe building works" can be helpful

Create an overlay screen to prompt action; after the user attends an event, the next time they open up the app they can only see this information screen to nudge them to take an action and with an option to exit out of it

Create an overlay screen to prioritize and differentiate "Incoming Tribe requests" from the other notifications.

Provide more information about the user tasks/flows with storytelling, imagining, stage setting

Develop and use more inclusive and supportive language around the decline.

Allow access to the Decline by Archiving it under profile settings in case the user changes their mind later on to make a TRIBE connection with a user.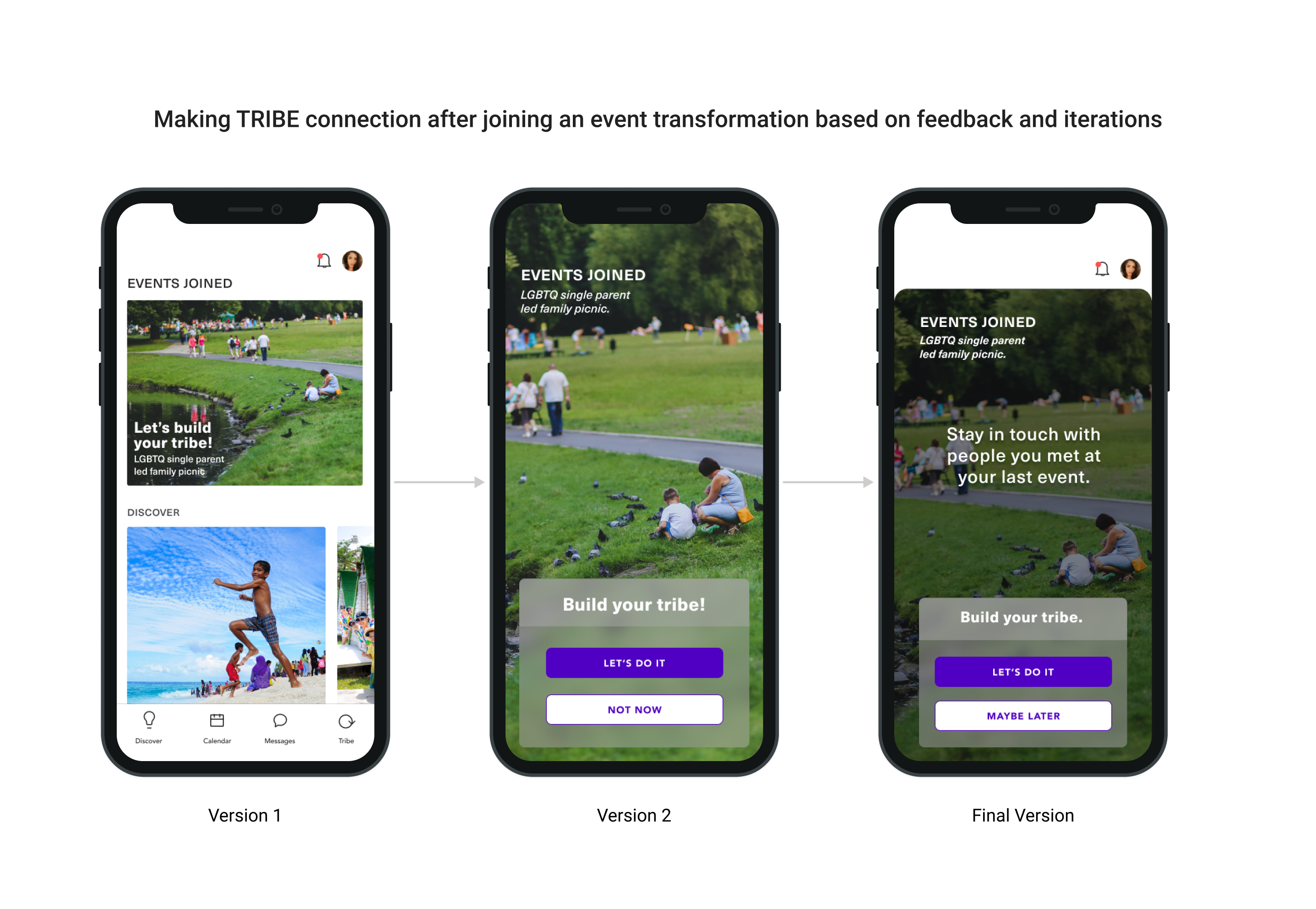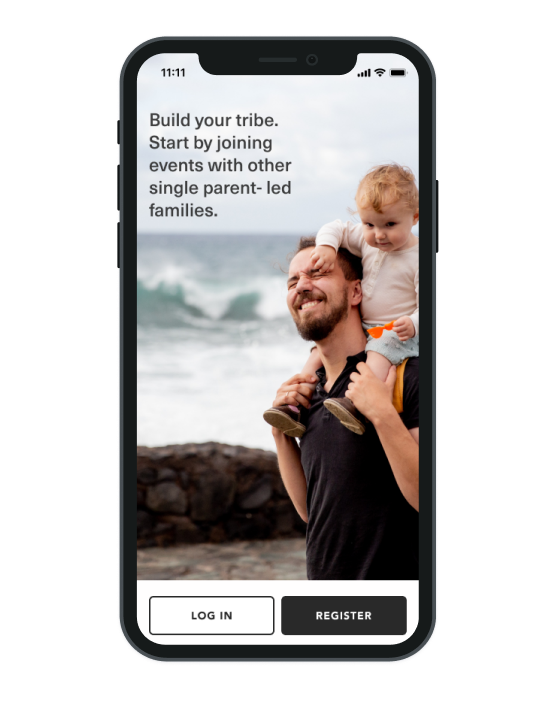 Main Features
Start building your Tribe
It takes a village so don't do it alone. Join events with other single parent-led families and build your tribe.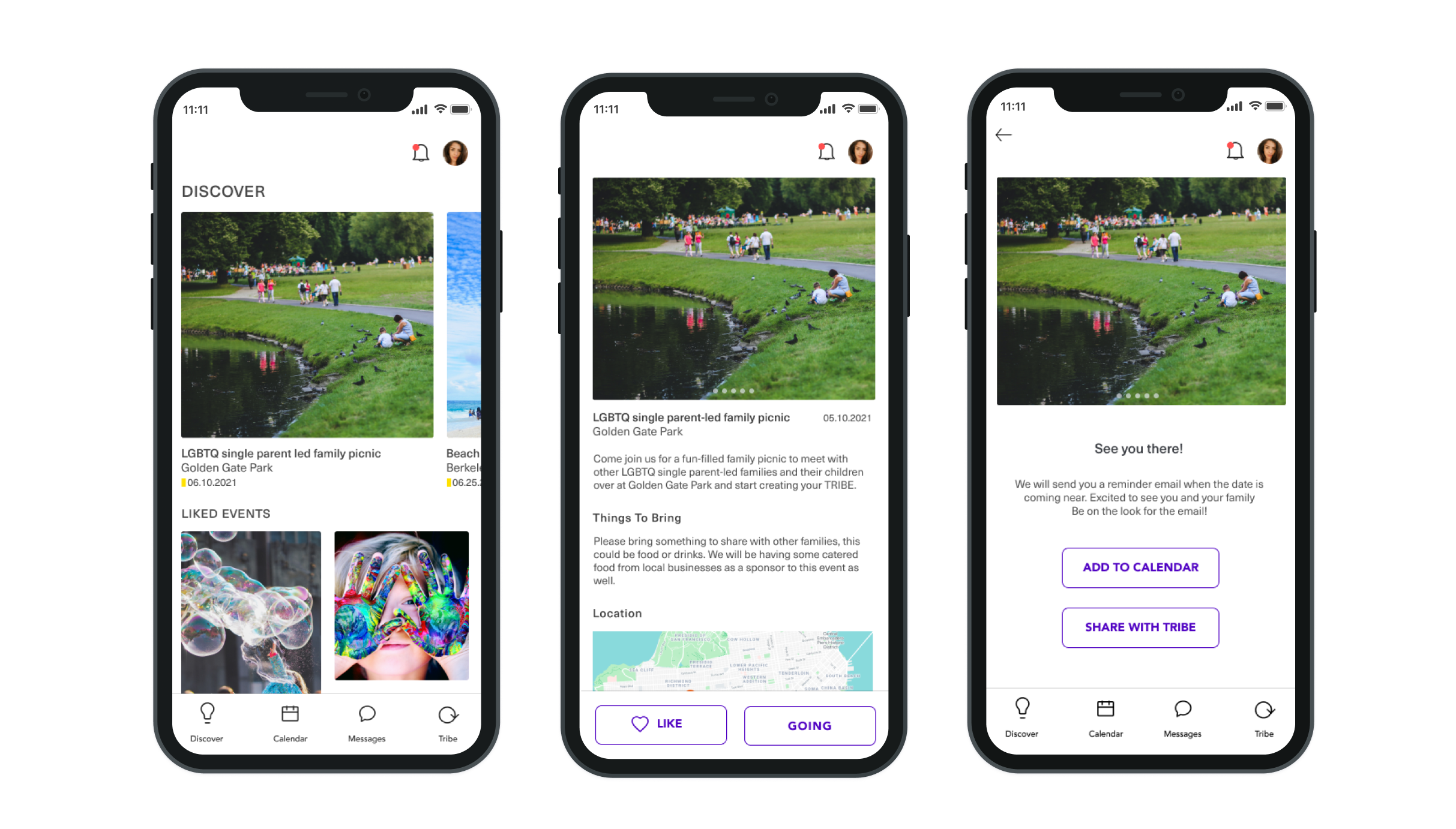 Discover events to join
Look through nearby events to join with other single parent led families, geo-location is set under the user's profile settings. You can add rsvp'd events to the calendar, Like events for future reference as well as share the event's you are planning on joining with your TRIBE connections (optional)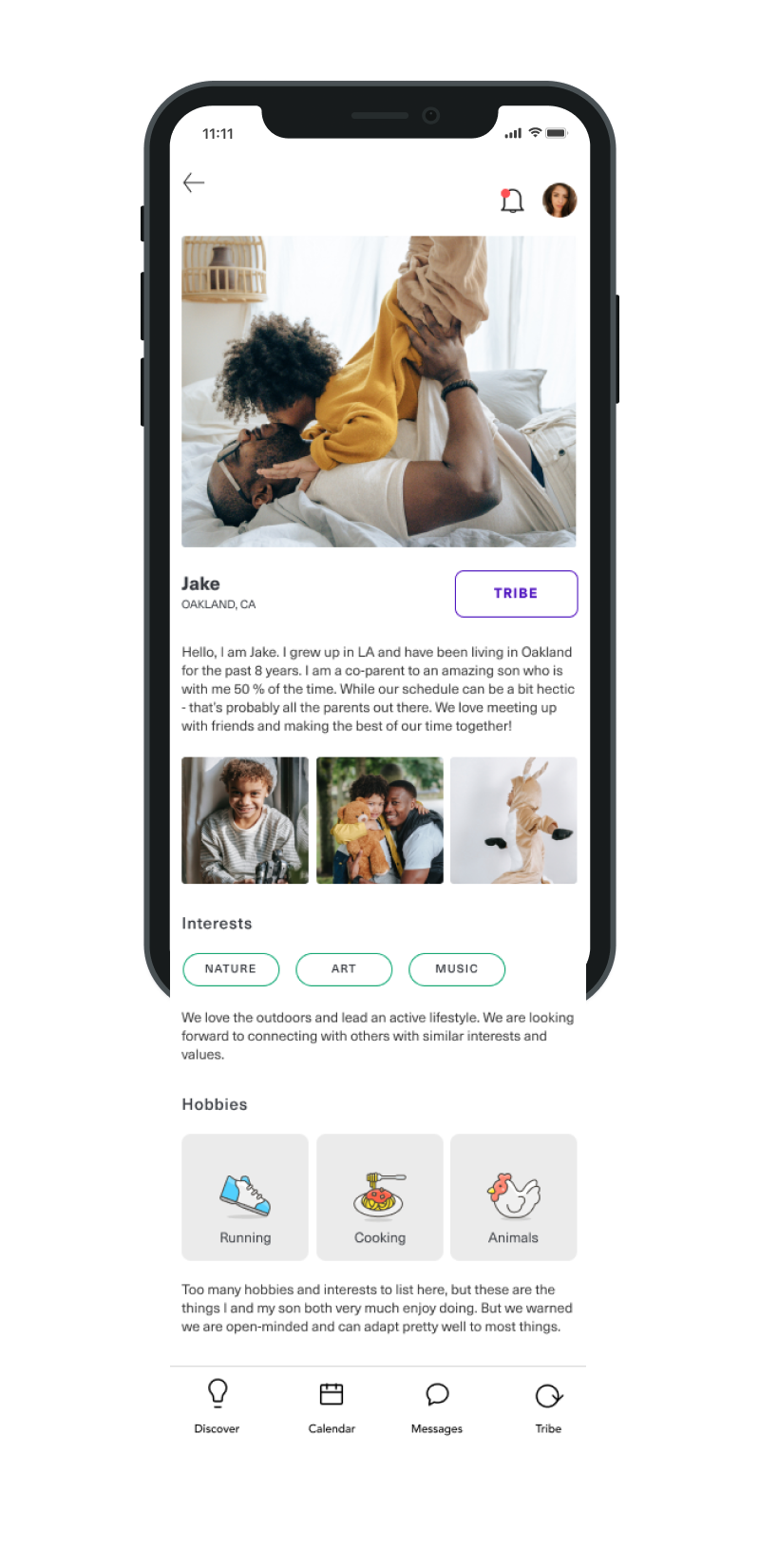 Single parent & Child/ren profiles
During the onboarding process, users set up their personal and their child/ren's profiles and preferences. People who attended an event with you can then see you and send a connection request based on your common interests and circumstances even if you haven't had a chance to speak with them at the event this way you can still have an access for a TRIBE connection with them.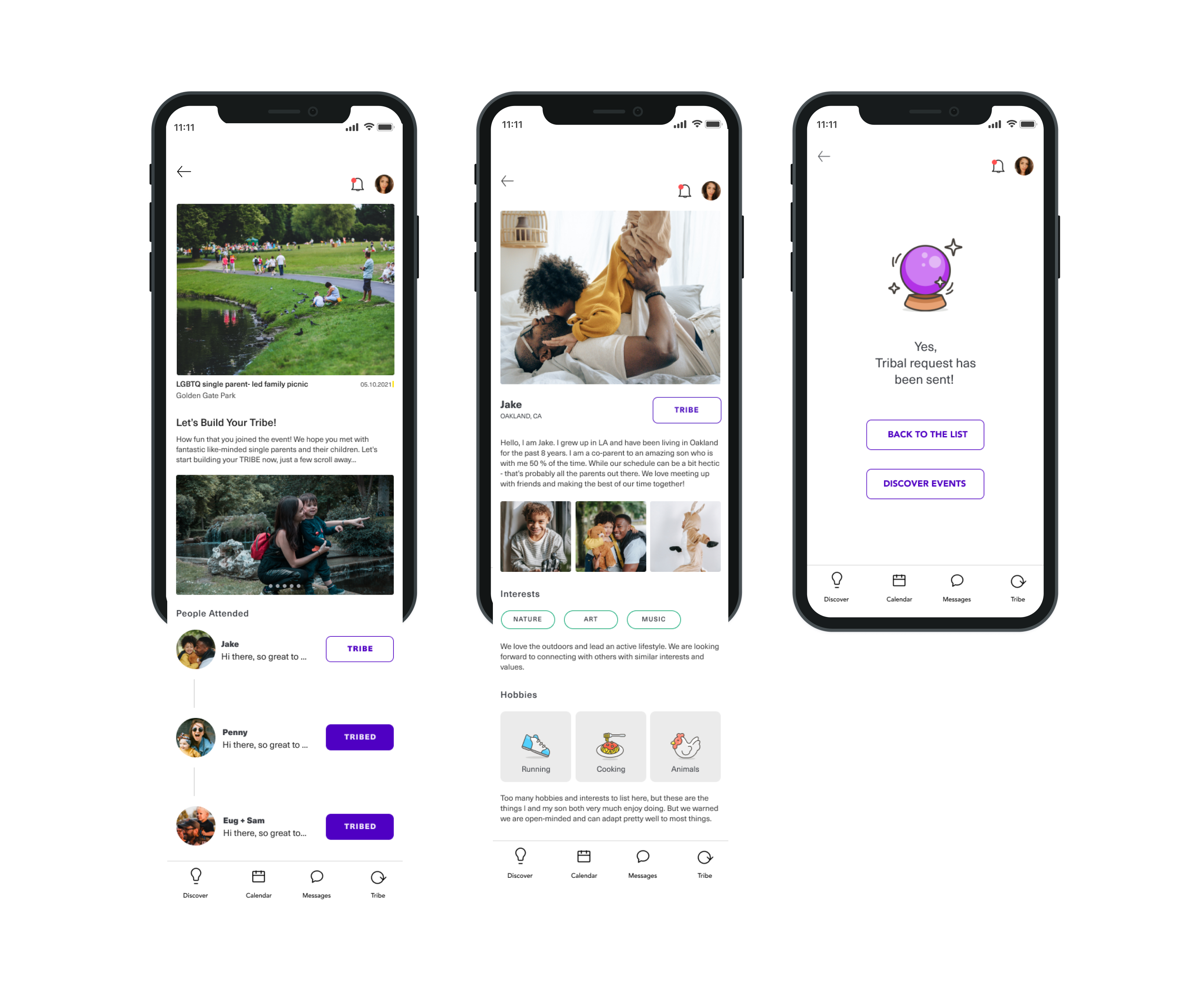 TRIBE Connections
Start making TRIBE connections with like minded people whom you met at the events. Building connections upon meet and greet is designed to take the pressure and awkwardness off of parents. Focus on having a good time with your family while getting to know other single parent-led families in an organic way.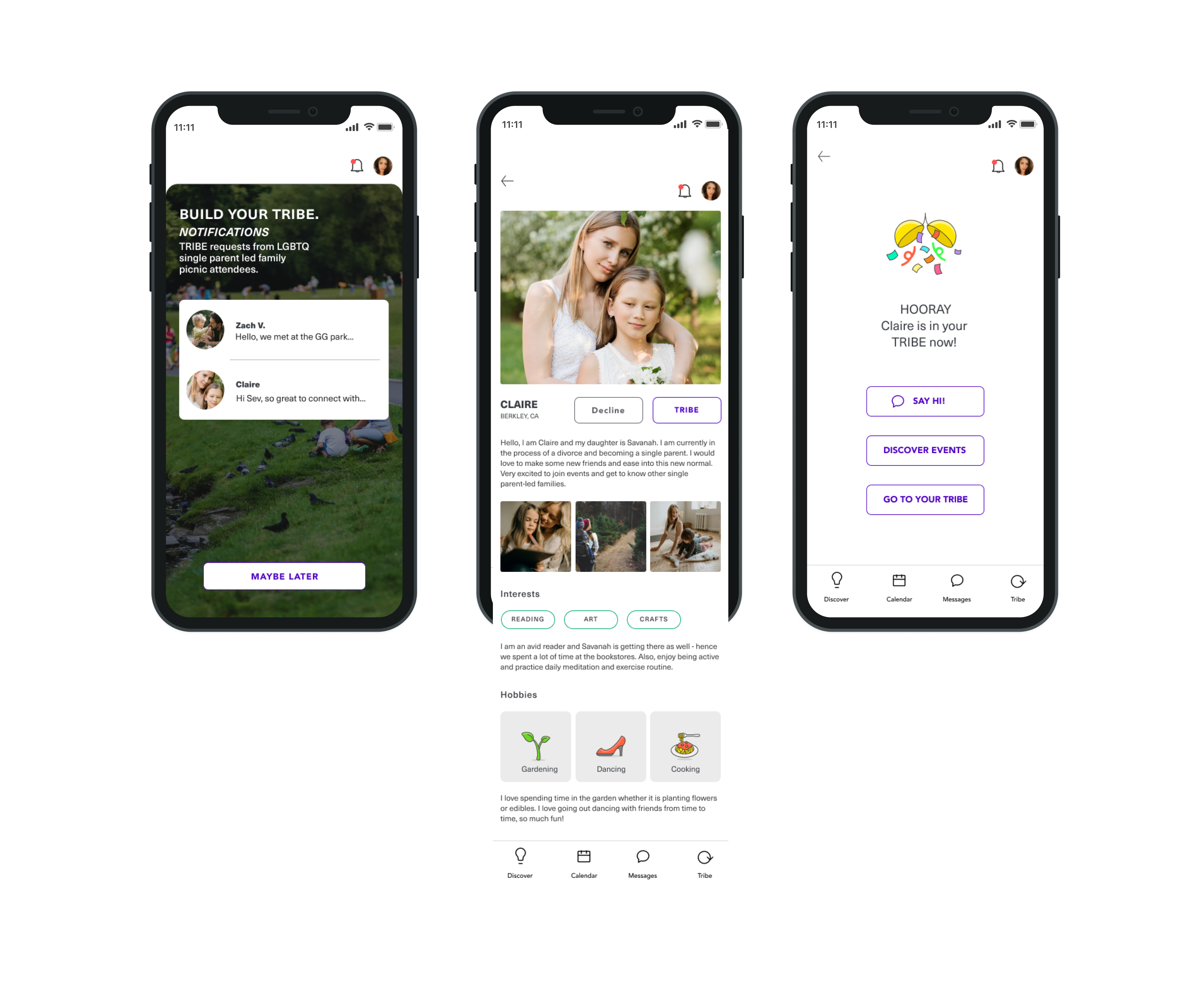 Mutual matching, positive experience
After meeting at an event, you can send TRIBE requests to other attendees, in order for the connection to be complete it has to be reciprocated from both the users. Once connected, start sending messages and plan your next meet-up.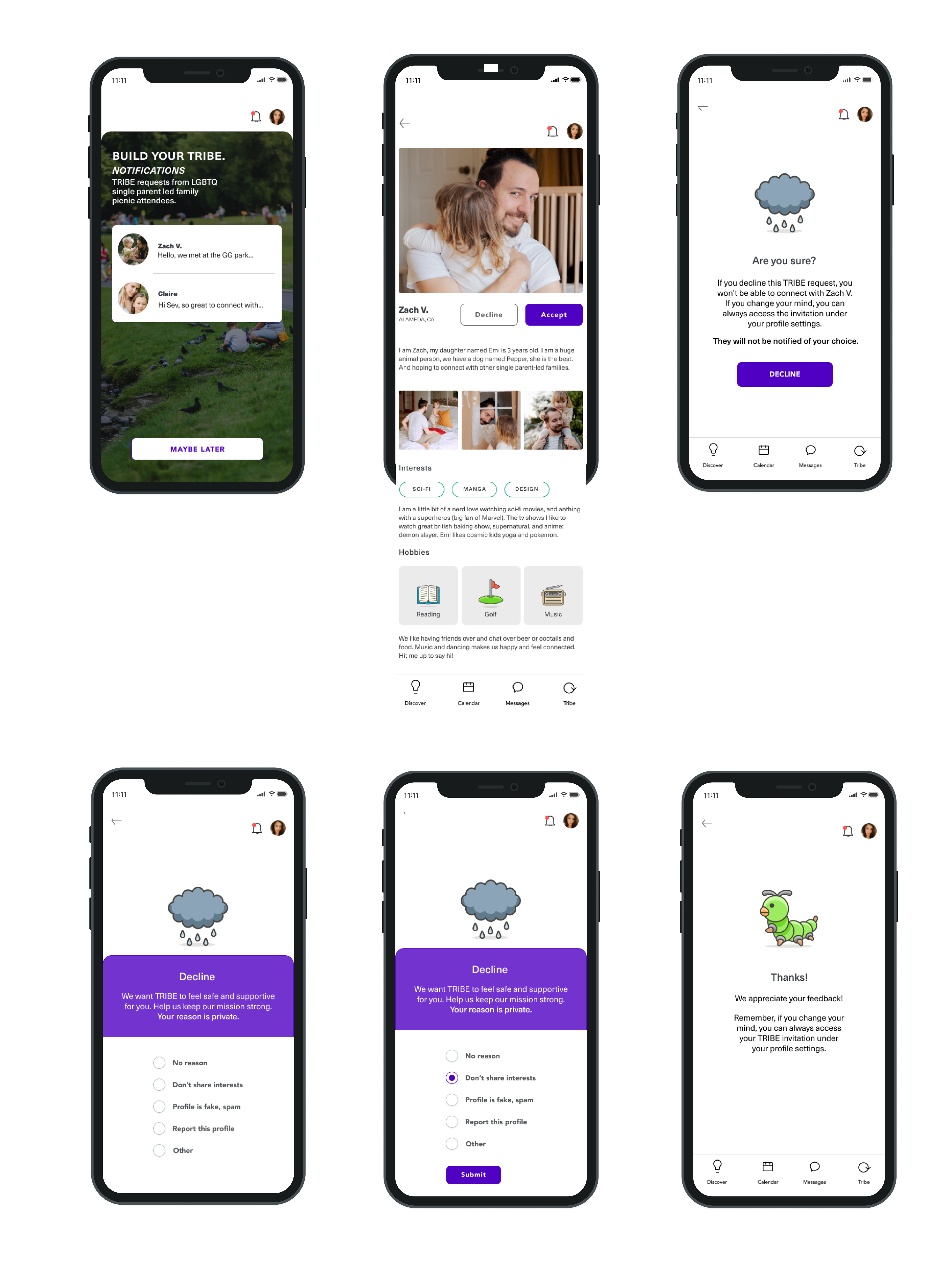 Mutual matching, negative experience
After meeting at an event, you can send TRIBE requests to other attendees, as well as receive Tribe connection requests from others. You can decline a request if you choose to do so, the sender will not be notified. You can always access the archived invitations under your profile settings if you change your mind.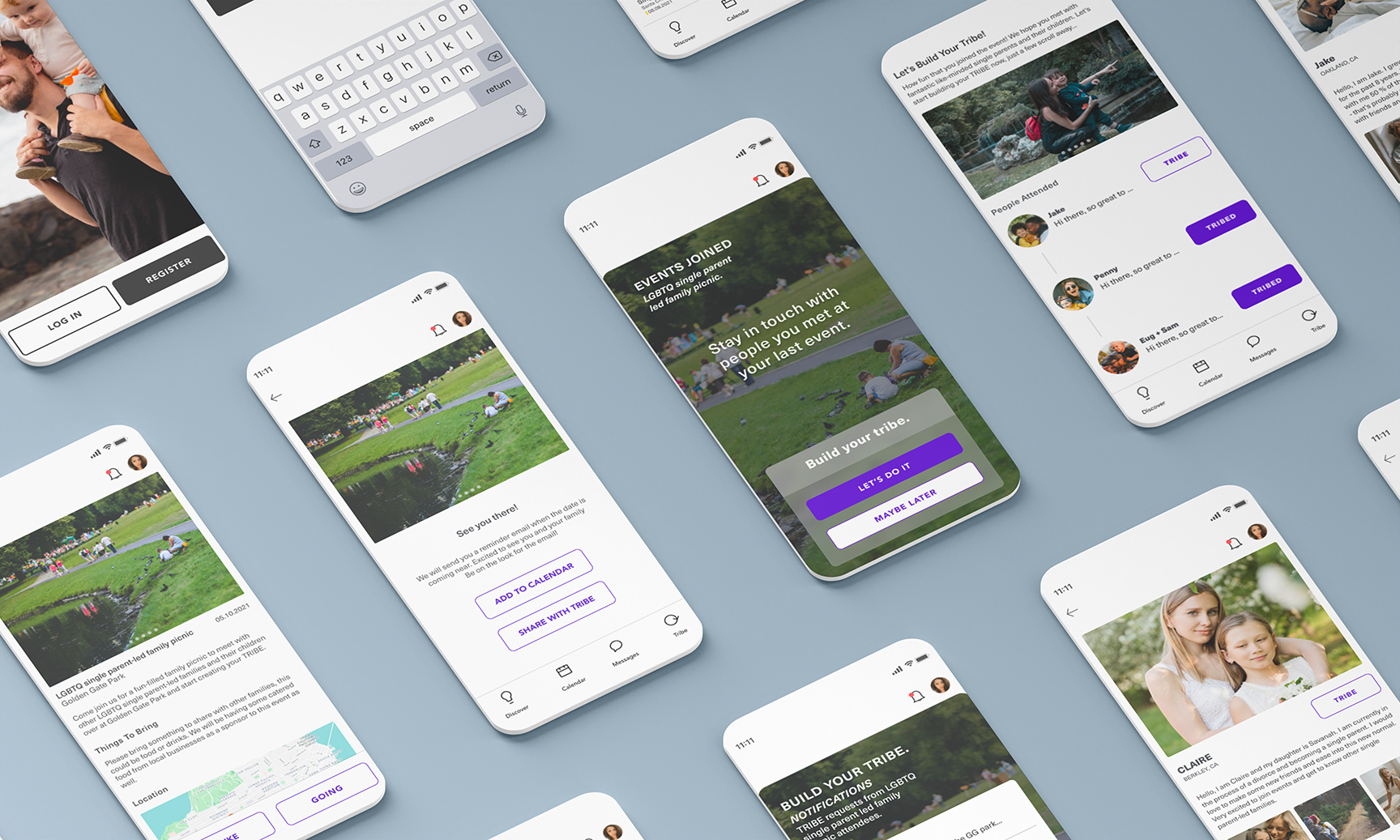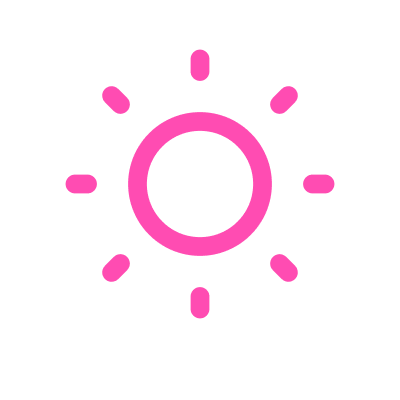 This was a really exciting and fun course project for me to work on as it could provide real value for Single parent led families globally. It involved quite a lot of research, detailed interaction design work and helped me further develop and practice better UX + Product design skills from start to end.

01 Learnings
Define an MVP
I've learned some important takeaways from this project related to product and business processes. I learned how to define a true MVP vs. something that is simply not usable. The importance of Red Routes, User flows and thoughtfully designed strategic customer journeys are critical to the success of user's interaction with the product.
Pay attention to your instincts while
being discerning
At the beginning of the project I was living through a similar experience of becoming a single parent myself and was experiencing a lot of unknown feelings and emotions. As I found more single parents to speak with, confide in and connect with, I had an insight that the marketplace did not offer a service for this specific group of users who were in need..
Always back up your instincts/hypothesis
with user research
The more user interviews I have conducted it became apparent that Tribe App can be very beneficial for connecting single parent led families with each other for enabling parents to create their support system. And this product fulfills Desirability, Feasibility and Viability aspect of good design therefore can be a sustainable solution to a demand in the marketplace.
Avoid getting too attached
Being able to stay true to the Human-Centered Design Process, means always being open minded to change to adapt your ideas and designs no matter how much you love it. Keep the user in the center, always.
Test, test & test again
I have learned a lot from my test sessions and been able to see things through the eyes of the users. Things that might be obvious to me, might not be obvious to the user. Getting continuous feedback is invaluable. There is always room to grow and improve.